William Fox


Wilhelm Fuchs (some times erroneously listed as "Wilhelm Fried") was born on the very first day of 1879 in the town of Tulchva in what was then Austria-Hungary. His parents were German Jews who brought their young son to America when he was only nine months old. Somewhere along the way, Wilhelm's name was changed to William Fox, a direct English translation of his Germanic name. This most likely occurred when his parents immigrated to the United States, as it was fairly common practice for immigration officials to enter into their books Americanized versions of European names. It is not documented when Wilhelm became William, but "Americanization" is the most likely reason.
William was the eldest of a family of 13 children. Only six of his brothers and sisters survived childhood. Fox grew up in New York City's Lower East Side. Fox left school at the age of eleven to go to work, which was not an uncommon thing for children of that era. He worked hard and was quickly making a modest living in the fur and garment business. At the age of 20, Fox married 16-year-old Eve Leo on December 31, 1899. He claimed this timing was most efficient, allowing him to celebrate his anniversary, his birthday, and New Year's all at once.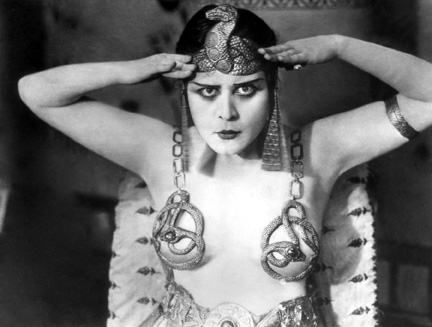 He started his own fur business in 1900, which he sold in order to start the Greater New York Film Rental Company in 1904 with the purchase of a run-down Nickelodeon in Brooklyn. As the new owner with an empty house, Fox hired a coin manipulator and a barker to attract patrons into the dark 146-seat theater. Once audiences adequately understood what moving pictures were, live acts were dispensed with. More theaters were opened and he became a successful film exhibitor.Fox opened a projection style theater at New York's 700 Broadway during May 1906. With its success, he purchased more Nickelodeons and converted them into theaters.
With his fledgling chain of theaters, Fox fought against the movie monopoly of the Motion Picture Patents Company owned by Thomas Edison. The fight ended in 1912 when the Supreme Court rules in Fox's favor. Fox then founded Fox Films, which on average produced four feature films a year. Four years later, the company moved to 13 acres in Hollywood California, where many movie companies were relocating. Operations of Fox's exploding empire were consolidated into the Fox Film Corporation in 1915. It was composed of the Fox Hollywood studios and the Fox Theatre chain.
Fox Films were wildly successful and very profitable. A series of Westerns staring film idol Tom Mix grossed almost $1 million per film for Fox. Fox made the first manufactured movie star, Theodosia Goodman from Cincinnati. Fox renamed his star "Thesa Bara", which was publicized as being an anagram for "Arab Death", she was already called Theda (a common nicname for Theodosia at the time). Arab Death was a perfect antidote for Mr. Bara's characters as she often played a dubious seductress or vamp. In her most famous movie, "A Fool There Was", her character, the "Vamp", whispered the immortal line, "Kiss me, my fool"! The photo to the right is of Ms. Bara as Cleopatra in the 1917 film of the same name. William Fox was credited with directing Cleopatra himself.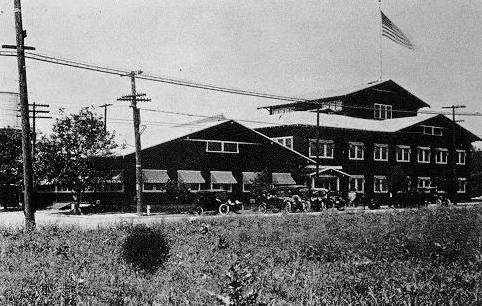 Fox began to build the famed Fox Hills Studios on 100 acres just outside Hollywood in 1923. Fox Films were wildly popular and very financially profitable, if something less than artistic masterpieces.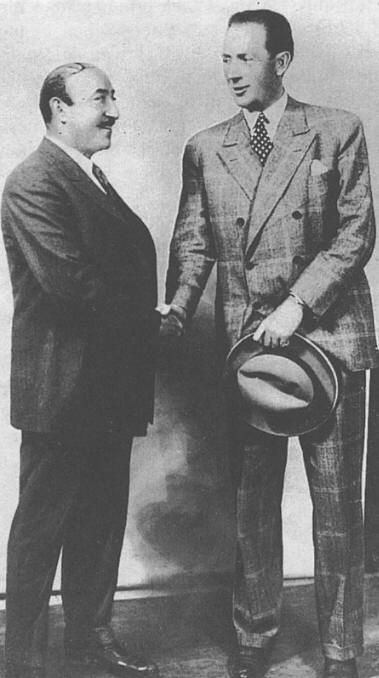 W.F., as he was addressed, was a publicity-shy man, called in the press "a brilliant, excited, energetic, roughneck." His niece, Angela Fox Dunn, recalls her Uncle Bill was given the title "The Lone Eagle of the Film Industry". At the height of his empire building, Fox was known never to carry anything smaller than a $100 bill. He refused to wear a watch and always kept his office blinds drawn in an effort to make time stand still. His personal motto was "the day ended when the work is done". For a period of almost 25 years, from 1904 until 1929, the Fox fortunes improved steadily with no signs of slowing down. At his zenith, Fox and his corporation owned a third of all the movie theaters in the world. Fox once boasted "No second of every 24 hours passes but that the name of William Fox is on the screen in some part of the world!" The image to the right of this text depicts W.F. Fox with the famous Geraman filmmaker F.W. Murnau taken around 1926.

The silent motion pictures were phenominally successful, but something even more incredible loomed on the horizon: sound. While several methods were attempted to bring sound to the silver screen, it wasn't until 1926 when the Vitagraph Studios of Brooklyn, which was wholly purchased by Warner Brothers Studios, debuted their Vitaphone system (the name is derived from the Latin and Greek words, respectively, for "living" and "sound."). The system employed a phonograph that was mechanically syncronized to a film projector. Unlike common phonographs of the day, the phonograph operated at a disc speed of 33-1/3 r.p.m instead of the standard 78 r.p.m.used at that time (In the 1950s, the music industry adopted 33-1/3rpm as their standard). Unlike all consumer records, it read the disc from the inside out. The system was introduced to the public on August 6, 1926 with the feature film

Don Juan

. the soundtrack was composed of a musical score and sound effects, but no dialog. The system didn't recieve worldwide acclaim until the 1927 premiere of the famous Al Jolson film

The Jazz Singer

. After the film's release, the motion picture studios were thrown into turmoil and to insure their survival, they had to adopt some form of sound technology.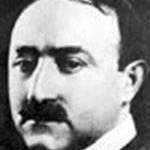 Seeing the writing on the wall, William Fox worked to bring sound to his studio long before the

The Jazz Singer

was made. Between 1925 and 1926, Fox purchased the rights to the work of Freeman Harrison Owens as well as the United States rights to the Tri-Ergon system invented by three Germans. Taking those two technologies and combining it with the work of Theodore Case, Fox's company created the Fox Movietone sound-on-film system. This system incoporated information bands directly on the side edge of the film celluloid. The bands were read by an optical device connected to the projector that converted the information to sound and then sent the signal to amplifiers and out to the speakers in the auditorium. Movietone was in wide release for public use in 1927, primarily for the Fox Movietone News weekly newsreels. Fox debuted MovieTone to the public with the release of F. W. Murnau's

Sunrise

. in the picture on the right, Fox is seen shaking hands with Murnau.

Because of its ease of use and its less complex-system, sound-on-film systems such as Movietone and the similar RCA Photophone system soon became the standard. The competing sound-on-disc technology fell into disuse by the end of the 1930s. Fox's use of his system on the Fox-Movietone Newsreels of the era was the main force that drove his patented system throughout the movie industry. Warner eventually abandoned Vitaphone and joined the other studios in licensing the Movietone system. The royalty rights brought in even more millions into Fox's personal finances.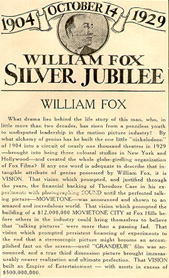 The year of 1929 was pivotal for William Fox. By then, he had parlayed his initial investment of $1,660.67 for a 146-seat Brooklyn storefront Nickelodeon theatre into a nationwide circuit of 1100 theatres. The Fox Theater chain had been continuing to build more and more opulent movie palaces. In 1929, the most opulent of them all, dubbed the Super-Foxes in Detroit, St. Louis, San Francisco, and Atlanta opened.
On March 3rd of 1929, Fox shook the film industry by announcing his attempt to takeover the Loew's Corporation. Loew's Inc. President Nicholas Schenck agreed to sell a controlling interest in the firm to Fox Film Corp. for $10 million. That would have given Fox control of Loew's theater chain and its MGM studio subsidiary, but Fox wanted complete control.
The driving reason for Fox's purchase of Loew's, Inc. was that he wanted to thwart Adolph Zukor, the primary owner of Paramount Pictures, from aquiring Loew's. Fox claimed that the late Marcus Loew (who died unexpectedly in 1927) and Zukor, who had been partners in vaudeville, had a gentleman's agreement in which their theater chains would only show each other's films and keep out other studios' pictures. Acquiring Loew's would allow Fox to release his pictures in the Loew's theater chain and force out Paramount films, thus giving him a competitive edge over Zukor and Paramount. Fox made an agreement with Schenck by which the Loew's boss would assemble enough shares of stock, in secret, to give Fox control. The $10-million price included a $2.5-million premium for Schenck.
Fox planned to merge MGM with his own studio, a merger that would require the approval of the Justice Department's Anti-Trust Divison, which Fox expected would approve the deal despite the huge concentration of production and power it would put in the hands of one man and a single studio. Fox lobbied the government in order to try to get the deal pushed through. When MGM studio boss Louis B. Mayer got wind of the deal, he used his connections with the administration of US President Herbert Hoover to block and delay the deal, in order to protect himself from being forced out from his own company as had happened to other studio moguls in the past. The most notable was Samuel Goldwyn, who had been squeezed out of both Paramount Pictures and his own Goldwyn Studios (which later became a part of Metro-Goldwyn-Mayer). Fox had made the tactical error in trying to keep L.B. Mayer in the dark, and he tried to rectify that mistake by offering Mayer $2 million. Although Fox's political clout got him in to plead his case to President Hoover, Mayer's political connections proved to be the stronger. After at first seeming to go along with the Loew's acquisition, the Justice Department reversed course and filed an anti-trust suit against Fox. Fox's plan was finally thwarted when his creditors began to make financial demands for repayment. He owed more than $50 million for Fox Studio expansion and the retrofitting of his theaters for sound.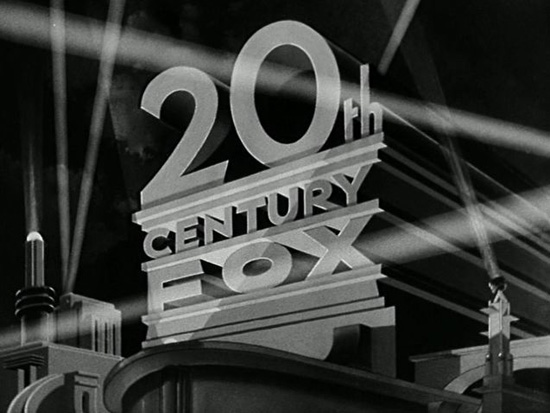 Personal tragedy struck in late July when an auto accident killed the family chauffeur and seriously injured William Fox. He was still recuperating when the stock market crash on October 29, 1929 (Black Tuesday) marked the start of the Great Depression. The stock market crash left him with virutally no cash and almost all of his assests were tied up as collateral for what was now worthless stock. In a matter of weeks, Fox went from a man whose worth was valued at over $400 million to one that was nearly $100 million in debt. A headline of December 6 that read, "Stock Market Crash Traps Movie Czar in $91,000,000 Debt." signaled the collapse of the Fox Empire.

By early 1930, William Fox was leveraged out of his CEO position of Fox Film Corporation Fox was forced to sell its Fox Films Studio to bankers for $18 million. One of the last films produced by Fox at Fox was 1930's The Big Trail, John Wayne's first leading role and the first domestic widescreen movie. By the end of 1930, trying to salvage what it could, most of the company's Fox Theaters were handed over to Loews, Inc. in an attempt to settle the debt owed by William Fox's failed takeover attempt. In 1932, Fox Film Corporation filed for bankruptcy protection, like a lot of other movie studios, in an attempt to reorganize and recover that did not succeed. In 1935 the Fox Film Corporation, under the direction of its president Sidney Kent, was sold to Darryl F. Zanuck who decided to merge it's assets with his own Twentieth Century Films production company to form Twentieth Century - Fox Films. (Note the hyphen in the name. It was meant to distinguish the two studios from each other.) The newly merged company had Joseph M. Schenck as its president. Joe Schenck's brother, Loew's President Nick Schenck, partially financed the deal.

While William Fox was no longer directly involved with any film studio, he was making money from the royalties he was personally earned through the licensing deals he had made for his movie and sound patents. This revenue was not enough to keep Fox's personal finances solvent and in 1936 his bank accounts were completely depleted. Fox was forced into personal bankruptcy. Through the bankruptcy process of auctioning off any of his pocessions that had value in order to pay his creditors, Fox lost most, but not all of his patents.

During his bankruptcy proceedings, William Fox was caught bribing the sitting judge that was overseeing his bankruptcy. Fox was charged and put on trial over bribery and purgery charges. He was found guilty and was sentenced to prison "for a year and a day". After the appeals process was exhausted, Fox began serving his jail sentence in mid-1942. He was granted a parole in 1943 after serving six months.

Fox's health and spirit were broken afterwards. He attempted on at least two times to get back into the motion picture industry. During the 1930s, a strong movement driven by percieved public morality developed. Out of that rose the strict "Hayes Rules" that were designed to force the studios to high level of morality and decency in both thier movies and their operations. William Fox was now a convicted felon and because of that, he was considered a pariah and was effectively blacklisted. The film industry had totally shut out one of its major founding fathers..

Fox and his family was kept financially secure thanks to the his patent holdings he was able to retain after the bankruptcy. This allowed Fox and his family to live in relative comfort. On May 8, 1952, with a reported estimated personal fortune of $20,000,000, William Fox died as "The Film Industry's Forgotten Man" in New York City. Fox's death certificate lists his real name as "Wilhelm Fuchs". The industry that he helped to found did not officially recognize or commemorate his passing. One of the few tributes to his life was William Fox listed under "Nobel Prize Winners and Famous Hungarians" although he is neither a recipient of a Nobel Prize nor Hungarian.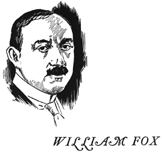 While Fox died a forgotten man, his legacy continues to live on in the form of the Twentieth Century-Fox Studios. The studio introduced the CinemaScope panoramic format in 1953 with its release of The Robeto compete with the growing impact of television on dwindling theater attendance. In time, the hyphenated name lost its hyphen and more emphasis was given to the Fox name. The studio name will forever be associated with such stellar recent movies as Cleopatra, The Sound of Music, and the six original Star Wars movies. Its opening "Fox Fanfare" theme is one of the most widely recognized anthems in the world today.
In 1985 the Twentieth Century Fox Film Corporation (now minus the hyphen) became a division of News Corporation owned by Rupert Murdoch and was simply renamed Fox, Incorporated. Ironically, the film production unit was renamed the Fox Film Corporation in 1989, the original name that Fox gave his new movie studio in 1915. Despite the name change, 20th Century Fox still appears on the opening titles of films and television programming it distributes.
Fox's legacy also survives through the remaining Fox Theatres that are spread across the United States. While the vast majority of Fox Theatres have been razed, including the spectacular San Francisco Fox, theatres in Detroit, St. Louis, Atlanta, Redwood City, Boulder, Bakersfield, Oakland, Visalia, and others that bear William Fox's name continue to pay tribute to him and the empire he established in the early days of cinema.
---
What About Eve (...and the rest of the family)?


There is very little known about William Fox's wife, Eve Leo Fox. She was born in 1883 and married William Fox on December 31, 1899. Everything else I have learned about her has been
by word of mouth and there is not a lot of proof to substantiate the credibility of that information. But from what has been stated in Fox Theaters publicity statements of the day, we can deduce that Eve was a very active partner with her husband when it came to the business. Like a lot of young women of the age, she wanted more out of life than the typical subserviant housewife of the era.

She wanted her own career. She regarded herself as an interior decorator. It is said she took on clients, decorating thier homes and was also involved of decorating many of the interiors of her husband's movie theaters. From what I have discovered, while Eve was given credit for decorating the Atlanta Fox, the historical record indicaties she had no involvement with the Atlanta Fox, despite a major advertising campaign for the theater's opening that credited her with traveling to the middle east to supervise plans to decorate the interior theater. As it turns out, the majority of the furnishing of the Atlanta Fox came from theater supply catalogs, particularly from the Kethcam and Rothschild Company. It has been further noted that there are a good number of similar pieces of furniture as well as light fixtures that graced all five of the Super Foxes in Atlanta, Detroit, Brooklyn, San Francisco, St. Louis. Eve Fox never visited Atlanta and to our knowledge both she and William have never visited the Atlanta Fox Theatre that bears their name.

Other than that, we know little else about Eve. She had at least two daughters and apparantly lived out her life with William Fox in New York. I do not know when she died or if she out lived her husband. According to the website, Ancestry.com, in 1930 The Fox's were living Woodsburgh, Nassau County, New York. Living with William and Eve were their daughter Mona and their Grandson, William Fox Schwartz. William Fox was 51, Eve was 45, Mona was 29, and William (Jr.) was 5 at the time of the 1930 Census. William Fox's occupation was cited as a Motion Picture Producer. Ancestry.com cites the Fox's had one other daughter, Belle. She was born in 1904, married Milton Schwartz. Belle died in 1989. William Fox Schwartz was born November 18, 1926 and died in Freeport Bahamas in January 1986 of Lung Cancer. The site states he married and had two daughters, but their names were not listed.

William Fox Schwartz presented himself as William Fox Junior. In the 1930 Federal Census, William Fox Schwartz was listed as William Fox Jr. There is no information why William dropped his biological father's surname. The family of William Fox Jr. has established the William Fox Jr. Foundation, attempting to implement his dreams and beliefs, (shaped by his visionary grandfather, William Fox). In its mission statement, the foundation states that "

William Fox, Jr., learning at his grandfather's knee, believed that the visual and performing arts must be used as tools in education. Given his grandfather's pioneering spirit, William Jr. was particularly interested in new technologies and felt that the development of new technologies in the visual and performing arts, must be encouraged.

" The William Fox Jr. Foundation's bestows grants intended for education as well as for the visiual and performing arts. An organization may be eligible for a grant from the foundation only if it is a registered not-for-profit organization.


---