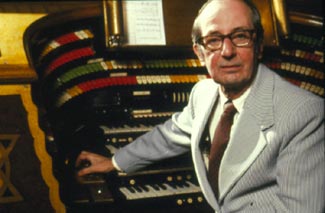 Robert C. "Bob" Van Camp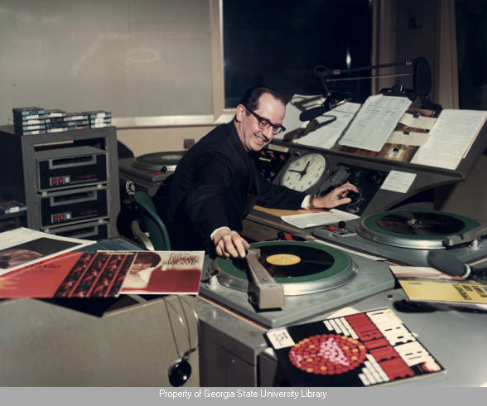 Bob was born in 1917. He graduated Duke University and served as an officer in the Army Air Force during WWII. Bob became a radio personality on WSB radio (AM 750) through his association with Elmo Ellis during the War. Ellis became a popular radio personality that eventually became WSB's general manager. Bob worked at WSB radio for 25 years from July 14, 1947, until his retirement Feb. 1, 1974. Bob was a very notable radio and musical institution in Atlanta his voice was instantly recognizable to almost everyone in the Atlanta area. During his tenure there, he served as chief announcer, music director and host of the "Morning Merry-Go-Round" show.
Van Camp was a very accomplished pianist and organist. Through his association with the American Theatre Organ Enthusiasts, he became the staff organist for the Atlanta Fox Theatre playing the famed 'Mighty Möller" organ for 40 years, beginning in 1963 and continuing until his retirement in 1987. In the 1960s, Bob played the Mighty Mo several times a day for movies on the weekends. After the Fox was bestowed to Atlanta Landmarks, Van Camp was a regular feature that preceeded the feature film during the annual Summer Film Festival. He would play the organ and then accompany sing-along's prior to the main film presentation. Interestingly, he never used sheet music and had well over 1000 pieces committed to memory. He was a member of the Board of Trustees of the Atlanta Landmarks. Inc., the American Theatre Organ Society and the American Guild of Organists.
Bob was also the Master of Ceremonies for the Atlanta Pops, and the Emcee and Narrator for the annual Rich's Downtown Christmas Tree Lighting.
After retiring from WSB, he was an office manager and salesman at Allen Organ Studios.His Monday's were always consumed by planning the Monday night Fox program he was to play.

After his death in January of 1990, his cremated remains were distributed atop the Fox Theatre organ chambers - a fitting tribute and memorial!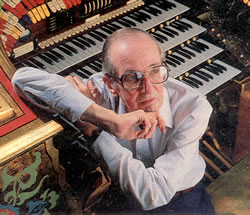 ---