Joe's big love in his life was pipe organs. At first, it was directed at church organs, but later he was focused on theater organs, particularly the large pipe organs of the massive movie palaces that during the 1950s were rapidly being razed during that era. Joe was a founding member of the Atlanta Chapter of the American Theater Organ Enthusiasts, later renamed American Theater Organ Society, or ATOS.With his fellow associates, they continually attempt to save and salvage many theater organs across the United States.
A great example of the Atlanta ATOS' efforts is the Grande Page theatre organ. It was the first of the Page Company's crown jewel, four-manual organs. It was originally installed in 1927 at the WHT radio studios of the Wrigley Building in downtown Chicago. It was said to be the largest such organ ever built for a radio studio. It found itself being moved from several places, then finally winding up on the hands of the Atlanta Chapter. After negotiations, it was placed in what is hoped to be it's permenant home at the Stephenson High School in Stone Mountain, Georgia. After years of work and a fundraising effort that raised over $70,000 for the installation and restoration, the organ was dedicated on April 3, 2014. (it should be said that Joe did not participate in the organ's restoration due to his health issues.)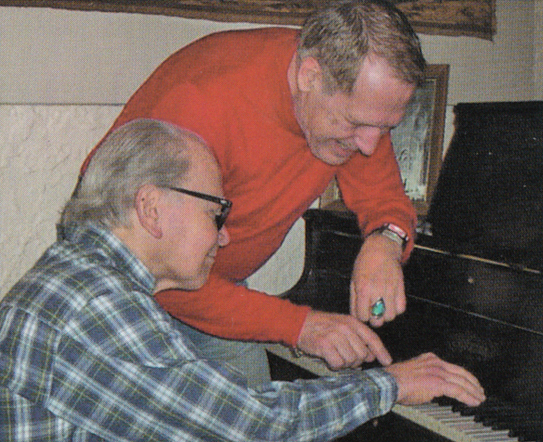 Fox Theatre's former "Organist At Residence" and close personal friend of Joe Patten, Larry Douglas Embury,
giving Joe a piano lesson on Joe's 1906 Chikering "reproducing" grand piano.
While Joe Patten had a great knowledge of the mechanics and operation of pipe organs, Joe would never attempt to play any of them, even the Mighty Mo at the Fox. He preferred to sit back in the logé of the Fox balcony and listen to his friends, Bob Van Camp, Hector Olivia, John McCall, and Larry Douglas Embury perform. When asked about this, Joe said he felt he could never attain the proficency needed to master playing the pipe organ, so her preferred to simply listen to others play them.
Joe remained an active member of the American Theater Organ Society. He continued to participate with the ATOS up to the time of his death. Joe had hosted a recital for the ATOS in his apartment just a month prior to his passing. In addition to Joe being a founding member of the Atlanta Chapter, he was a recipient of its Lifetime Achievement Award and recipient of the Pioneer Award from the American Theatre Organ Society.