About Hal Doby, the author of this site.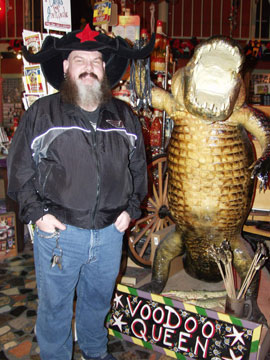 Revised January 11, 2017
Hal was born in Atlanta Georgia in 1958 at the tail-end of the "Baby Boom" generations duirng the idyllic post war age when everyone liked Ike and positively loved Lucy. He was raised in the Candler-Glenwood area of southern DeKalb County, between the city limits of Atlanta and Decatur.
As a young child, Hal's father would occasionally treat Hal by taking him for a ride into the downtown district of Atlanta to go see a movie at one of the city's grand movie theaters. From memory, Hal got to experience the grandeur of the Roxy, Capitol, Loew's Grand, and the Fox Theatre. Later in his life, the connection to the Fox Theater would increase when he visited the Fox routinely on elementary school field trips to see speakers talking to school children about far-off places and their journeys,
After the Fox was saved from demolition, Hal found himself going on a tour of the Fox that was hosted by Atlanta Landmarks volunteers in 1976. The tour ended in the Egyptian Ballroom where Bruce Sutka was talking about the restoration efforts of that room. At the end of his talk, he made a plea for volunteers to help work on the building. A few weeks later, Hal was knocking on the Fox's front doors, responding to Bruce's plea. Thus began Hal's 17-year "hands-on" relationship with the Fox.
In time, individual volunteer restoration projects came to an abrupt halt. As it turned out, Hal's cousin, Kathy Rhodes, was a volunteer event usher at the Fox. She invited him to join her and soon Hal found himself volunteering as an usher during events on a constant basis. Hal's general knowledge of the auditorium and the Fox in general helped him to advance within the event staff. Hal was eventually made a part of the paid event staff.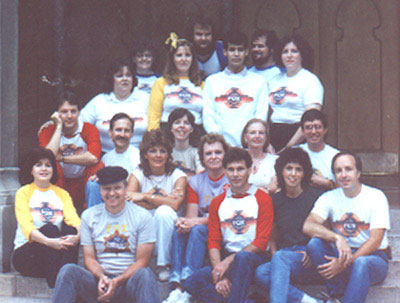 In 1981, the Atlanta Women's Chamber of Commerce, Fine Arts Division, approached the Fox Theatre with their interest to form a new group that could function to benefit the Fox. General Manager Ed Niess and AWCC Fine Arts Chair Jo Ann White conceived the idea of Friends of the Fox (FOF), a non-profit volunteer restoration group that would work with the Fox's Restoration Director, Rick Flinn. The group would meet on a monthly basis to perform restoration and clerical work under Mr. Flinn's supervision.
Because Hal preferred restoration work, he turned his attentions to FOF and stopped working events. By the end of FOF's first year, Hal was asked to become the group's Restoration Chair and Vice-President of FOF. This was a position he held for two years. In its fourth year, FOF became an independent group detached from the Women's Chamber. Hal was elected the first non-AWCC President. He served in this capacity from 1984 until the end of 1990 when he stepped down and Dr. Beth Ruddiman became its President. In 1992, Rick Flinn stepped down as Restoration Director. His successor, Mary Katherine Martin decided there was no further need for Friends of the Fox. While FOF ended its direct affiliations with the Fox Theatre in early 1993, its core members continued to meet on a quarterly basis for Saturday Brunches to keep in touch with each other.
In 2002, Hal learned Georgia Public Broadcasting was developing a documentary on the Fox Theatre and put a call out for people that had been involved with the Fox. Hal contacted GPB and went to its offices to be interviewed. During his time with FOF, Hal almost always carried a camera with him and had collected an extensive amount of photographs of the Fox and the FOF members. GPB used a number of these photographs throughout the documentary. Of the 45 minute on-camera interview, about twenty seconds was shown in the presentation.
Hal established a personal web site in 1995. Part of that site became a tribute section to the Atlanta Fox Theatre. Hal kept the web site up for several years until 2002 went his domain was parked and taken off-line. After his experience with GPB, Hal was inspired to re-establish his web presence with the Fox tribute site being the main portion of the site. His new Fox content was heavily revised and was constantly visited by people looking for information on the Fox.
After the 75thAnniversary of the Fox's opening, Hal volunteered his services to the Atlanta Preservation Center in 2005 to give public tours of the Fox for about a year. In 2009, Hal re-located the Fox tribute site to his revised dobywood.com domain. After many years, my Fox tribute site is still being revised and updated in order for it to be better than ever.
---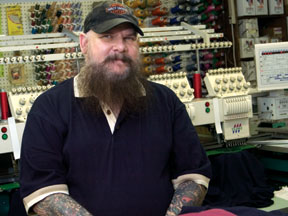 Professionally, Hal originally pursued a career in Radio-Television Electronics as a teenager and then later business administration as a young adult. At the beginning of the 1980s, the field of computing exploded when International Business Machines introduced its Personal Computer, more commonly known as the PC. At the that time, Hal was a production manager for a local small business, Action Awards. Hal quickly became responsible for the company's technology needs. In time, Hal was named the company's Vice-President of Information Technology about the same time Action Awards was named one of the top 500 growing small businesses in the United States by Inc. Magazine. Hal is currently in his 33rd year at Action Awards.
---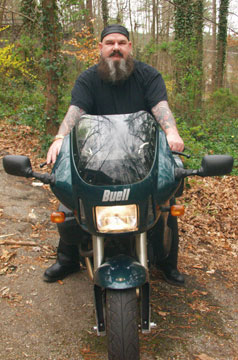 When not at work or at the Fox, Hal has had a deep love of automobiles and motorcycles. Hal is particularly fond of Brisith Sports Cars and BMWs. Over the years, Hal has owned over 30 different cars of various makes and models.
During the 1980s and 1990s, Hal was deeply involved in the British Motor Car community. Hal participated in both local, regional, and national sports car clubs and events. He became the Newsletter Editor for the Georgia Triumph Association, and later its Director. Hal served two years as a staff member of the Vintage Triumph Register. Hal was also the VTR's chairman for the 1992 VTR National Convention that was held in Savannah, Georgia. Hal served as the Newsletter Editor for the Atlanta Chapter of the Peachtree Chapter, BMW Car Club of America for two years. Hal still maintains a presence in the British Car Community and still serves as a consulant for those who are planning large car events.
Hal has been riding motorcycles since he was 15. As it's been with his cars, he's owned a number of motorcycles. In 1990, Hal also founded the Atlanta Rider's Group, a local motorcycle club and was its President for 3 years.
---
Hal is also a huge fan of the movies. Hal's love of electronics and the movies blends together in the form of his home theater along with his collection of thousands of movies ranging from the very rare and ancient to the most modern blockbuster. Hal is particularly fond of movies from what had been termed "The Golden Age of Cinema". .
---
Hal is a proud member of Sons of Confederate Veterans. the SCV is a historical preservation group that is the direct descendant of the United Confederate Veterans. It was formed in 1896 and it's original mission was to look after the care and welfare of Confederate Veterans and their familes. When the last Confederate Veterans died, the mission changed to looking after their gravesites as well as atempting to preserve and educate people about the Confederacy.

As the names infers, you have to be a descendent of a Confederate Veteran. You have to able to prove that direct lineage to a Confederate Veteran. For me, my Great Grandfather, Silas Doby, was a member of the 14th Georgia Militia. He joined in the summer of 1861 and they immediately traveled to join the Army of Virginia, led by General Robert E. Lee. They were involved in every action Lee's forces were engaged in. At Gettysburg, Silas participated in the infamous "Pickett's Charge" and not only survived but escaped not injured. He was with Lee's forces up to his surrender at Appomattox Court House. Surviving the war, Silas lived to a ripe old age before dying of a stroke in 1928.

Hal is an active member of Major-General General Joseph Wheeler, Camp 863 of the Georgia Battalion, with its headquarters located in Conyers, Georgia. Hal is in his sixth year of serving the encampement as it's Web Master. I invite you to visit our site and learn more at our Web Site.
---
Hal resides in his home in southern Rockdale County with his partner Mark and their 6 cats and his crazy dog, Izzy.